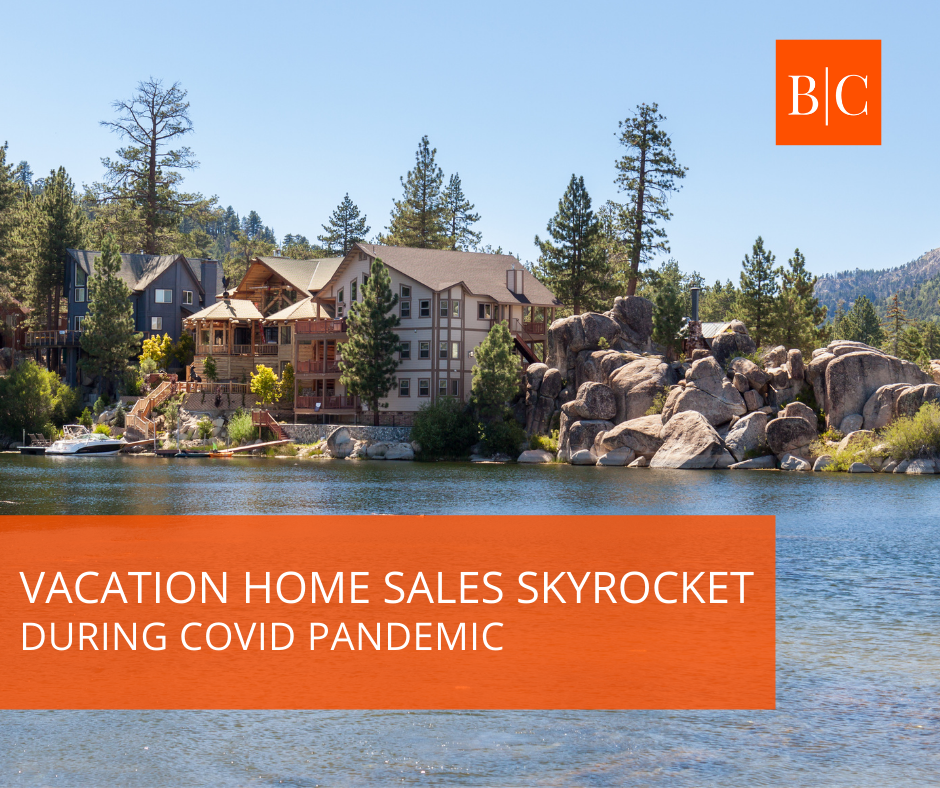 Vacation Home Sales Surge Due to COVID-19 Pandemic
In the months after COVID-19 hit the United States, vacation home sales shot up, likely the combined result of low-interest rates, a desire to escape amid social distancing and lockdown, and an unprecedented ability to work from anywhere.
It's part of a major cultural shift around work and homebuying in the United States. For real estate agents working in hot vacation home markets, it's been a busy year.
"Now that people have an opportunity to work remotely and spend more time with loved ones, I think they are reconsidering what kind of lifestyle they want and where they want to spend most of their time" said Dixie Brown, Principal Broker for Brown & Co Realty Group, a boutique real estate firm in Southeast Texas.
"Our firm is seeing a large influx of people relocating to Texas because they can work from anywhere and they enjoy the laidback lifestyle and common sense values this state has to offer."
PANDEMIC BOOST
In mid-2020, vacation home sales began to outperform total existing home sales, the result of "a pandemic boost," the National Association of REALTORS® says. An estimated 109,100 homes intended for vacation use were sold in 2020 from July to September compared to 75,600 vacation homes sold during that same period in 2019, a 44% increase year over year. In comparison, total existing-home sales during July-September rose 13% year over year (1.72 million in 2020 vs. 1.52 million in 2019).
"The pandemic and low mortgage rates have increased the desirability and affordability of owning a vacation home," NAR says in a blog discussing the data. "Buyers may be desiring a vacation home as a weekend getaway as urban-based leisure activities are still constrained by social distancing.
The ability to work from home means buyers who can work from home can spend more time at and enjoy their vacation home. Historically low mortgage rates have also made a home purchase more affordable while rising prices in past years have yielded larger home equity gains that can be tapped (through, say, a home equity loan) to use for a down payment."
Vacation homes also sold more quickly than they had in the past. Of second homes where the sale closed during July-September 2020, 58% sold within one month, NAR says. That echoes a nationwide trend caused by low inventory: 71% of existing homes that closed in September were on the market for less than one month.
Where Are People Buying Vacation Homes?
Unsurprisingly, nine of the top 10 cities where you're most likely to come across a vacation home are in sunny Florida.
Miami Beach topped the vacation home density list with homes intended for seasonal, recreational, or occasional use comprising nearly 25% of its total homes.
But in all of the cities that made the list, at least one in 10 homes is a vacation home:
Miami Beach, Florida: 25%
Pompano Beach, Florida: 19%
Fort Lauderdale, Florida: 16%
Cape Coral, Florida: 16%
Boca Raton, Florida: 13%
Hollywood, Florida: 12%
Largo, Florida: 12%
Clearwater, Florida: 12%
West Palm Beach, Florida: 12%
Scottsdale, Arizona: 11%
Since the pandemic began, people have been even more interested in buying a second home — and in moving to desirable locales like Arizona, Texas, Oklahoma, and Florida.
For more information on vacation properties in Texas, please contact your local Brown & Co Realty Group agent today.